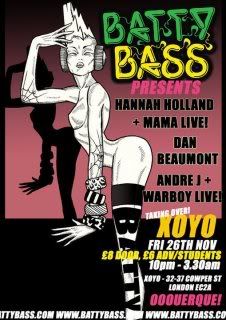 Grab your tickets Here!!
After a sell out night in Oct Batty Bass Presents @ XOYO is back for more!!!
Taking over the basement in London's hottest new venue :
Hannah Holland
Mama (live)
Andre J & Warboy
Dan Beaumont
Doors 10pm-3am
£6/£8
Batty Bass Presents @ XOYO is back with more emerging, dynamic and exciting artists from the Batty Bass crew.
Head honcho Hannah Holland heads it up with her trademark dancefloor London swagger, just about to release the critcally acclaimed club smash Paris' Acid Ball!!
Mama is fresh from touring Europe with Bloc Party's Kele, bringing her sexy show back to base, she always fires up the party in ways no one else can!
Andre J & Warboy bring the tribal, twisted, manic and totally orginal vibes with their major new track 'I AM', which will be released on Batty Bass early next year. Andre J, residing from New York, is one of London's bright club stars...the only transgenre model to be blased on the cover of Vogue! Warboy is none other than a London club legend, having promoted some of the most forward thinking and outragous parties. Together these two are nightlife gold!
Dan Beaumont from the Disco Bloodbath fame has recently started a prodcution outfit called Jam Factory, with giant warehouse old skool vibes...this is serious house buisness. Be prepared for some of the best jams from this man, his record collection and musical knowledge goes way back to the beginning!!