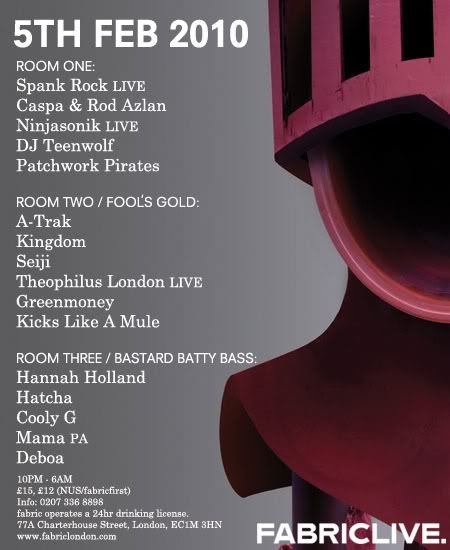 Cooly G: http://www.myspace.com/coolyg
We're really excited about having Cooly G play at Batty Bass. We're huge fans. Don't miss this!
"Cooly G is one of the most original and talked-about producers coming out of the UK Funky scene. She describes her sound as having a 'deep house tribal dubstep vibe' and we're not going to argue with that.
Pushing a deeper sound than most Funky DJs, expect to hear her own unique, forward-looking beats alongside plenty of exclusive UK Funky business" (http://www.residentadvisor.net/event.aspx?101913)
Cooly G Live: http://www.youtube.com/watch?v=zPCoFId8Tf4
Cooly G Music: http://www.youtube.com/watch?v=p7NIZvnWkJc&feature=PlayList&p=96408D26ECC02ABF&playnext=1&playnext_from=PL&index=5
Hatcha: http://www.myspace.com/djhatcha
"No one DJ or indeed producer can claim sole credit for dubstep . But when the history of the genre gets told, no DJ has ever had, or perhaps ever will again have so much influence over the course of the genre as Hatcha. It's no overstatement to say the entire genre bares his stamp."
Martin Clark - blackdownsoundboy.blogspot.com
Hatcha Live: http://www.youtube.com/watch?v=ZgguJTd_9pc
Hatcha Interview: http://www.youtube.com/watch?v=pXd__ctgX0k