THANKS TO
BEYOND THE VALLEY
FOR SUPPLYING ME WITH SOME LOVELY GARMS!! CHECK OUT THE SHOP IN SOHO. I PLAYED AT THEIR FASHION WEEK PARTY, BUT AS THE SOUND SYSTEM WAS BRUUUUKE I PLAYED ABOUT ONE RECORD AFTER THE HOLLA HOOP ACT. YES THE HOLLA HOOP ACT..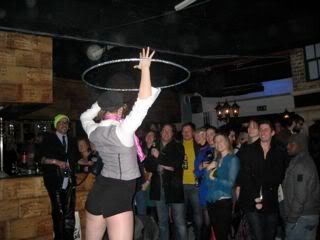 FASHION PARTIES MANN, THEY ALWAYS MAKE ME FEEL LIKE IM IN A BAD EPISODE OF SEX IN THE CITY!! MY BRO
JONJO
WAS THERE, WHICH WAS FUN!
NEXT UP WAS A TRIP TO STOCKHOLM FOR A NEW NIGHT IN A HOTEL/CLUB CALLED BERNS. I FELT VERY JETSET, FLYING IN JUST IN TIME FOR THE GIG, WHICH WAS DOWNSTAIRS IN THIS GRAND HOTEL, WHICH REMINDED ME OF THE GREAT EASTERN. MR
PJOTR
LOOKED AFTER ME V WELL AND IS PUSHING NEW SOUNDS IN STOCKHOLM, RESPECT TO HIM!! AND IT WAS NICE TO SEE SOME FRIENDLY FAMILIAR FACES FROM MY LAST VISIT TO SWEDEN.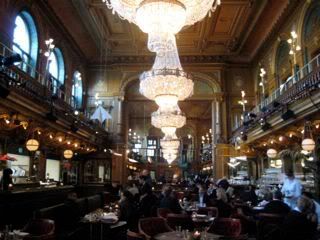 breakfast the next day.
STRAIGHT BACK TO LONDON AND STRAIGHT INTO FABRIC WITH MY BATTY BITCHES...WE ASSAULTED
TAYO'S
COOL AND DEADLY ROOM, BIG THANKS TO SHAUN AND TAYO FOR HAVING US....WE LOVED N ROCKED IT!!! NICE TO CHAT TO SOME PEEPS AT FABRIC ABOUT THE
ITUNES PODCAST
, SEEMS LIKE ITS A HIT!! :)
mama n chickaboo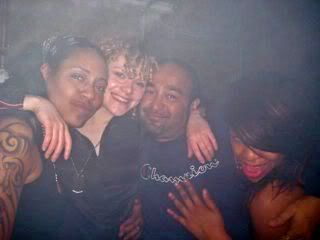 batty bitches and fabrics soundman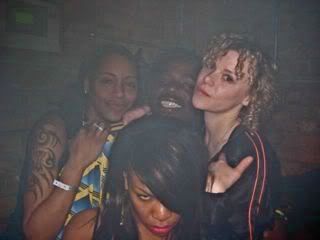 batty bitches and tayo
BAMBAMBAM
SAT...JUMP ON A PLANE TO AMSTERDAM, AND PLAY AT
CLUB STALKER
IN HAARLEM. WHICH IS WHERE I VENTURED BEFORE ON MY LAST TRIP TO HOLLAND. PEEPS THERE THINK IM THE NATIONAL PORN STAR, KIM HOLLAND'S SISTER ! :) SHOUTS TO DAMIR AND CREW FOR BRINGING NEW FLAVORS TO A SMALL TOWN WHERE NEW DANCE MUSIC IS RARELY HEARD.
my hotel in haarlem