HOLLA. ON WEDS I PLAYED IN BRISTOL FOR THE GROOVE ON 3RD BDAY. WICKED LIL CLUB , LEE FROM
DEEPGROOVE
PLAYED A NICE SET TOO, THEY HAVE SOME HEAVY NEW MATERIAL WATCH OUT FOR THAT.
TRAILER WAS RAMMO ON FRI,
MATT WALSH
&
FRANZ AND SHAPE
PLAYED KILLER SETS. AFTERWARDS MYSELF AND MR CORMAC BOPPED DOWN TO HERBEL TO CATCH
DJ STORM
AND
CHICKABOO
TEARING UP THE DRUM AND BASS FLOOR. I ALWAYS LOVE A LIL D & B INJECTION OF A NIGHT!!! THEN BACK ON THE ROAD TO GET TO
ALL YOU CAN EAT
, GREAT PARTY, BUT SOME FUKER NICKED MY RECORD BAG WHICH ENDED A GREAT NIGHT SADLY. BTW, IF ANYONE HEARS ANYTHING ABOUT WHO TOOK IT, LET ME KNOW!
SAT WAS RIOTOUS FUN AT THE
GET RUDE
OFFICE PARTY!! KILLER MUSIC, KILLER CROWD, THANKS TO THE ZOMBIE DISCO SQUAD FOR HAVING ME.
AFTER THAT I BOUNCED DOWN TO
PER QX'S
NIGHT "GUTTERSLUT" AT IMAGES ON HACKNEY RD, MUCHO FUN THERE WITH JONNY WOO AND CREW, THE NIGHT CARRIED ON & ON INTO SUNDAY AND ENDED WITH A WICKED LIL AFTERPARTY.
LOOK OUT FOR THE NEXT INSTALLMENT OF BATTY BASS RADIO, WHICH MYSELF AND MAMA SHAMONE WILL BE HOSTING, WITH A MIX FROM
MARTELO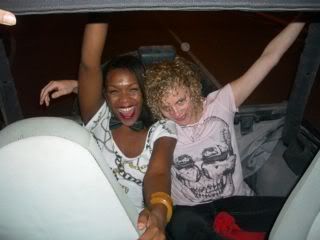 mama & hannah in ibiza