THIS VENUE HAS THE BEST SOUND SYSTEM IN LONDON...TRUST!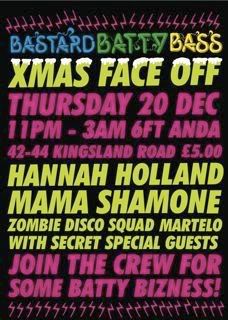 HANNAH HOLLAND AND MAMA SHAMONE WILL BE UNLEASHING THEIR BATTY BEASTS.
EXPECT DANCEFLOOR MAYHEM.
OUR V SPECIAL GUESTS WILL BE
ZOMBIE DISCO SQUAD
, WHO GIVE THE BEST HIP HOUSE GHETTO FIDGET THIS SIDE O THE WORLD.
MARTELO
...STRAIGHT OUTTA THE MIA TOUR WITH SANTIGOLD, WHO ROCKS IT DOWN AT YOYO WITH
HIS BLEND OF HIP HOP ROCK RAVE PHENOMENA .. WE CANT WAIT TO DANCE TO HIS BATTY BEATS.
PLUS SUPER SURPRISE GUEST!!!